With seven categories and just five business days in the week, the math didn't add up…so I proudly present a triple Threat Award Friday Blog.
Today I will preview the three remaining categories and ask you to submit your favorites:
Our final categories are:
Best Contest or On-field Promotion:
What promotion or contest is the most entertaining. For example, a "Chuck-a-puck" contest. This is a repeatable on-field promotion that is held in-game. Consider entertainment value, creativity, local connections, sponsorship possibilities, cost, and repeatability.

Best Team Operations:
Which team is doing the best job in their game operations and game presentation. We level the playing field by considering budget constraints to minor league teams. Consider creativity, value to fans, overcoming sport and budget limitations, quality of presentation, and attention to detail.

Best Entertainment Group:
Performance Group whose work was fresh, creative and interesting, serving as a valuable tool for their team and in their community. Providing quality entertainment and additional value for fans. All sports team performance groups are eligible. Consider quality, uniqueness, and marketplace value.
Best On-Field Promotion has long been dominated by Live Races and 2012 looks to be no different. An early favorite would be the Washington Nationals President's Race, whose patience paid off this fall when they finally had Teddy Roosevelt win a race to end their first playoff season.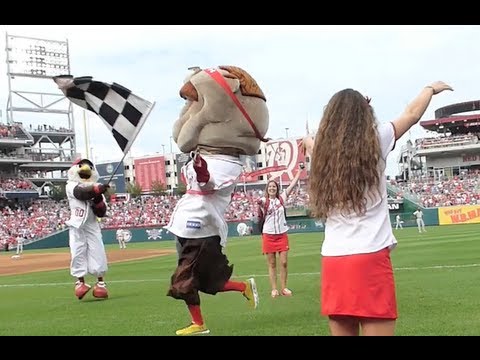 Team Operations is always a wide open race with teams across sports having equal footing.  Nominations and highlight reels can make all the difference.  Last years winner was Colorado Eagles who used a YouTube video to showcase their impressive year in game operations.
Finally, our newest category is the Best Entertainment Group.  Winners have included dunk teams, drummers, dancers and even a organist
Let us know your favorites for 2012 in all seven categories!
Submit your nomination on the CONTACT US page at Gameops.com .  The form has a drop-down menu labeled "I am interested in".  Select "BEST OF AWARD SUBMISSIONS", then select the category of your submission.
Be sure to submit your favorite before the November 15th cut-off date so our Panel will receive your nomination.  Also feel free to add comments or thoughts about why you like them or links to any additional information our panel should consider.
Thank you!
–Cudo
Jon Cudo is the Founder and Editor of Gameops.com and a 25-year veteran in game presentation and the most tenured mascot in team sports. His blog covers everything from game night promotions, site news, mascotting, book reviews and more. It\'s not \"must read\"....but it\'s close.
[
Contact Cudo
] [
@gameopsdotcom
] [
Facebook Page
]
Tags: best of 2012, colorado eagles, dancers, dunkers, presidents race, team operationsm, teddy